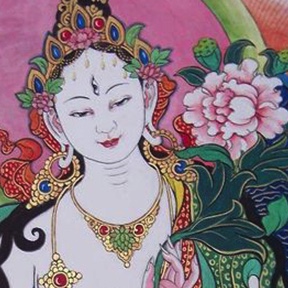 Jizo and White Tara Retreat
with Acharya Susan Chapman
Saturday, March 21 and Sunday, March 22
10:00 am to 4:00 pm
Cost: $108 full weekend or $60 Saturday only
One of the greatest sufferings we human beings share is the death of a loved one. And if that loved one was an unborn or newborn child, our grief has often been hidden, silenced by lack of community acknowledgement and comfort.
In the Zen Buddhist tradition, Jizo is a bodhisattva of compassion who is dedicated to protecting 'water babies', those beings who came into our lives for only a very short time. This weekend retreat is primarily for mothers and/or fathers who have suffered this loss in pregnancy, through miscarriage or abortion, as a newborn, or of a baby in the first months of life. But all who grieve a loved one are welcome. The Jizo Ceremony is a ritual for blessing and saying goodbye to our lost babies. Although the ritual is originally Buddhist, we have adapted it to include any form of spirituality that is meaningful to you. Please know that the details of your loss or losses do not have to be spoken, it is our being together with our shared sadness that is the most profound healing.
White Tara is a beloved female deity, the mother of all Buddhas. In our lineage, Trungpa Rinpoche gave this practice to women who were struggling with infertility. While there are several manifestations of Tara, the white form in particular is associated with removing obstacles to long life and protection from fear.
Saturday will conclude with a Jizo Ceremony and an introduction to White Tara.
Sunday will involve the practice of Maitri Bhavana for all those who are suffering and the afternoon will be a description, talk and practice of White Tara.
Acharya Susan Gillis Chapman was authorized to perform this ritual by Zen teacher Yvonne Rand in 1990 after the stillbirth of her infant daughter, Karuna. Susan serves as an Acharya, or senior teacher, in Shambhala. She is the author of The Five Keys to Mindful Communication and has dedicated her career as a family therapist to bringing the teachings of contemplative psychology to our relationships. She completed Gampo Abbey's three-year retreat, where she went on to serve as druppon, or retreat leader, for six more years. During this time she received many teachings on the Mahayana from Ani Pema. Susan is also on the faculty of Karuna Training, a community that joins mindfulness, compassion and contemplative psychology for personal transformation.