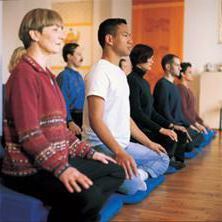 Shambhala Sunday Morning -- Meditation Instruction, Sitting and Compassion Practice
Join us every Sunday in group practice of the Shambhala community's core discipline of mindfulness-awareness meditation. Periods of silent sitting meditation alternate with shorter periods of walking meditation. Each session starts and ends with chants and may include a short contemplation. Every other Sunday will include a dharma talk.
Today's schedule includes shrine cleaning for Shambhala Day 10:00 - 11:15.
We provide meditation cushions, benches and chairs. You may come and go as you like.
Introductory meditation instruction and follow-up guidance are available at 9:30am.
BY DONATION


If you have any questions, don't hesitate to write
Jan Russell, [email protected]