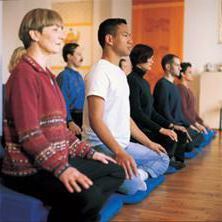 Shambhala Sunday Morning -- Meditation Instruction, Sitting and Compassion Practice, Dharma Discussion
By Zoom

Join us every Sunday in group practice of the Shambhala community's core discipline of mindfulness-awareness meditation. Periods of silent sitting meditation alternate with shorter periods of walking meditation. Each session starts and ends with chants and includes a guided loving kindness practice and discussion group. Some Sundays we will include a video.
April 5
9:30 Opening Chants & Guided Meditation Practice
10:00 Guided Maitri Bhavana Practice led by Acharya Susan Chapman
10:30 Recorded video talk: Framing the Journey: an introduction to the upcoming new online series: Foundations for Freedom: The Hinayana (see our calendar Tuesday, April 28 for more information)
11:15 Bio break, grab a tea and cookie for the discussion group.
11:30 Discussion Group with Acharya Chapman
12:00 Closing Chant
Donations are appreciated, especially during these uncertain times when we have had to cancel most of our revenue-generating programs.
To join us by Zoom, click https://zoom.us/j/5172791759
or start the Zoom app and join meeting 517-279-1759
Our Zoom meeting begins a few minutes before the posted class time.
Helpful tips for Using Zoom for online meditation and classes.
If you have any questions, don't hesitate to write
Sandy Brooks [email protected]