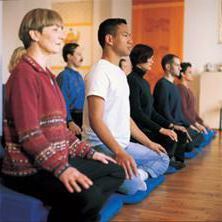 Wednesday Open House-7pm
All are welcome. Shambhala Open House is an excellent and reliable way to enter into the practice of mindfulness/awareness meditation, encounter the fundamentals of Shambhala Buddhism and begin to build a regular practice. Newcomers are always welcome, and many people in our community make Open House a regular part of their lives.
(Open House is every Wednesday except for rare holidays or special members'-only events.)
7pm: Sitting meditation, meditation instruction. Please arrive by 7pm sharp if you wish to receive meditation instruction.
8pm: Tea and cookies followed by a talk and discussion led by one of our senior meditation instructors.
Donations are appreciated.
No registration necessary. Cushions, benches and/or chairs are provided.
For more information contact [email protected]