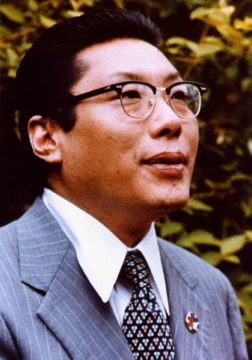 Online event: Celebration of the Life and Teachings of Chögyam Trungpa Rinpoche
This April 4th marks the 33rd anniversary of the passing of the founder of Shambhala International, Vidyadhara Chögyam Trungpa, Rinpoche, the Druk Sakyong.
Please join us for a celebration of the life of Chogyam Trungpa Rinpoche on this 33rd anniversary of his passing, or Parinirvana. Trungpa Rinpoche is renowned for being an early pioneer in not just bringing the dharma to the west, but for establishing a strong community of dedicated practitioners under the umbrella of what is now known as Shambhala.
In celebration of Trungpa Rinpoche's life and teaching, we will practice the Sadhana of Mahamudra together. In 1968, Trungpa Rinpoche went on retreat to Tagtsang, near Paro, in Bhutan. This was a time when he was at a crossroads, frustrated and struggling to find a way to communicate the genuine buddhadharma to the western world. The Sadhana of Mahamudra arose in his mind during this retreat. It became a central practice for his students and has continued to be practiced at Shambhala Centres since that time. It particularly addresses the challenges of the times that we find ourselves in now.
Following the sadhana, everyone is invited to share stories of Trungpa Rinpoche, his poetry, or other readings of Trungpa Rinpoche.
To join us by Zoom,
click
here
Or start the Zoom app on your computer, tablet or smartphone, and join
Meeting ID:
517 279 1759
Password:
123456

If you are new to Zoom, here is some help:
In addition, the Shambhala Archives has made available a 33 minute video of a 1974 talk of Chogyam Trungpa Rinpoche's called "Mahamudra 1". You can access that through this link: https://vimeo.com/159530202
The Shambhala Archives also has posts and images of the Chogyam Trungpa Rinpoche archival collection available on their Facebook page: https://www.facebook.com/ShambhalaArchives
We look forward to joining together with you in cyberspace on April 4th.
Contact Juanita at
[email protected]
for further information.
Stay healthy and be safe.