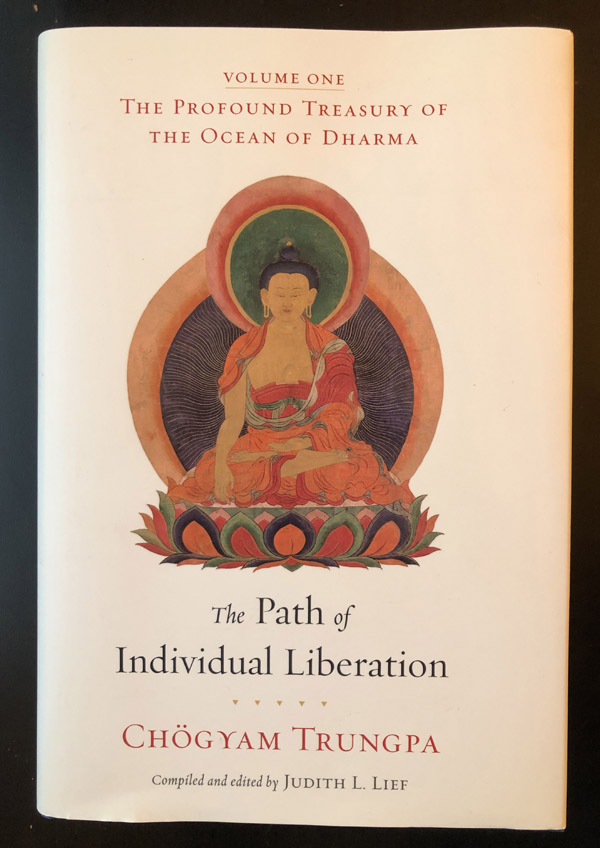 Taming the Mind and the Path of Meditation
with Cathryn Stein Abato
Sitting meditation, Reading and Discussion
Sunday afternoons, 2pm - 4pm
Kate Abato hosts afternoons of sitting meditation, with a reading from The Profound Treasury of the Ocean of Dharma or other dharma book, followed by discussion.
2:00 - 3:00 pm - sitting and walking meditation
3:00 - 3:30 pm - reading and discussion
3:30 - 4:00 pm - sitting and walking meditation
The Profound Treasury of the Ocean of Dharma is meditation master Chogyam Trungpa Rinpoche's greatest contribution to Western Buddhism. The three-volume collection presents in lively relevant language the comprehensive teaching of the Tibetan Buddhist path. These volumes are compilations of all the talks given at 13 annual three-month intensive training programs for senior students.
Volume 1, The Path of Individual Liberation, represents the wisdom of hinayana. It introduces core Buddhist teachings on the nature of mind, the practice of meditation and the possiblilty of liberation. It examines the nature of suffering, impermanence and egolessness. The hinayana path is based on training in mindfulness and awareness, cultivating virtue and cutting grasping. Topics covered include the four noble truths, karma, the four foundations of mindfulness, and meditation practice.
Suggested donation $10/class
Kate Abato is a long-time practitioner in our community, and a member of the Nalanda Translation Committee since 1976. As a translator, Kate brings a particularly insightful perspective to these teachings.
Ms. Abato offers His Holiness The Dalai Lama The Sacred Path of the Warrior on behalf of Chogyam Trungpa Rinpoche
Chronicles Radio interview with Kate Abato. In this episode, Julia talks with Kate Stein about meeting Chogyam Trungpa, studying Buddhism, Sanskrit, and Tibetan, working with Trungpa Rinpoche's ministry of External Affairs, organizing a reception for the Dalai Lama in Washington DC, organizing a congressional luncheon for His Holiness the 16th Karmapa, and the Lumbini Project. Also in this interview Kate reads a series of poems by Chogyam Trungpa. Kate was with Rinpoche when these poems where composed, and she worked with him on the translations.