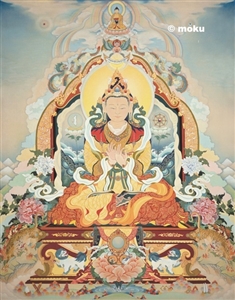 An Introduction to the Shambhala Lineage, Part 3
with Walker Blaine
Thursdays March 18, April 1, 15, 29 (May 13 if needed)
6:30 to 8:00pm
What is lineage?
Please feel free to join us in these regional ongoing conversations, based on talks by Walker Blaine who is at work on a book on the subject. People from Portland, Seattle, Bellingham, Vancouver, Nelson and Lillooet have been participating. There is no need to have attended Parts 1 or 2; in fact Part 3 begins with Walker's actual Class One.
In the previous two sessions, we chose to begin with Walker's presentation of the Shambhala approach to meditation (our Part 1 = Walker's Class 2). Then in the second series, we worked with Walker's talks on the Supplication to the Shambhala Lineage chant (our Part 2 = Walker's Class 3).
Now we are turning to look at the meaning and nature of lineage, and at how it provides transmission of the teachings.
Meetings will be on Zoom from 6:30 to 8:30 pm
Zoom: 517 279 1759 Passphrase: 123456
Cost: By Donation
Coordinator: Ginny Evans [email protected]
These courses are based on talks by Walker Blaine, Shambhala Master of Liturgies, who is currently working on a book about these teachings which were first introduced by Chögyam Trungpa Rinpoche in 1977. Walker has studied and practised in the Shambhala tradition for 35 years and, more recently, works with translating and caring for the texts and instructions of the Shambhala Buddhist tradition. He lives with his wife Patricia and their son in Halifax, Nova Scotia.