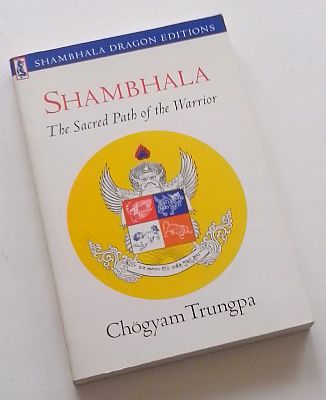 "Shambhala, Sacred Path of the Warrior" class
with Geoff Bannoff
Shambhala, Sacred Path of the Warrior class
Six Tuesdays beginning October 19
The Shambhala teachings are rooted in Buddhist meditation practice, directed toward a sane society. Instead of retreating from the world, these teachings encourage us to engage fully, mindfully and genuinely with our lives. This is a great opportunity, and also a challenge.
The book Shambhala, Sacred Path of the Warrior, encapsulates the foundation of the Shambhala teachings that Chogyam Trungpa Rinpoche brought from Tibet to the West, for the West, on the path of meditation, mindfulness, and living in our world with authenticity, bravery and tenderness. It is perhaps the most-read and referred to of the many books that this meditation master published during his lifetime.
The first section of the book, How to Be A Warrior, has these chapters:
Creating an Enlightened Society - We affect every situation we find ourselves in: home, work, school, our neighbourhood. How do we uplift each environment (or not)?
Discovering Basic Goodness - The foundation teaching of Shambhala is that we are worthy, decent human beings. How to (re-)discover that fundamental truth. A different way of looking at what is also called buddhanature.
The Genuine Heart of Sadness - Our tenderness is a powerful way to access mindfulness and wake ourselves up.
Fear and Fearlessness - What holds us back from being genuine? Recognizing and working with fears and anxieties.
Synchronizing Mind and Body - The practice of sitting meditation.
The Dawn of the Great Eastern Sun - As we learn to recognize and trust basic goodness in ourselves and others, a broader vision for working with our world can evolve.
The Cocoon - Habitual patterns, powered by fear, provide a safe, but stifling life. How to recognize and work with our cocoon.
Renunciation and Daring - The actual work of stepping beyond habitual patterns, first in meditation, then in our world.
Celebrating the Journey - Appreciating ourselves, our senses, our environment, and those around us.
Letting Go - Building on trust in basic goodness, how to relax into being genuine, with ourselves and others.
In six weeks, we will cover all these topics and perhaps other subjects in the book. Our class will read 2-3 chapters each week, then have a spirited discussion, looking at how these teachings apply to our lives, and in the current world situation.
The class will be led by Geoff Bannoff, who first encountered Trungpa Rinpoche in 1974, and has been actively exploring these teachings in the nearly half-century since then.
Copies of the book, Shambhala, Sacred Path of the Warrior, can be borrowed from the Shambhala Centre library, or purchased for $13.
This is an in-person class, held at the Vancouver Shambhala Centre.
Program cost $50.
Generosity price $70.