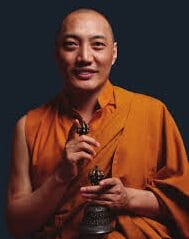 Exploring Foundational Buddhist Teachings – ONLINE
This program is presented by Shambhala Online
Live sessions from 10 am - noon Pacific time
2023: Oct. 14, Nov. 11 & Dec. 9
2024: Jan. 13, Feb. 10, Mar. 9, Apr. 13, May 11 & June 8
During this nine-month (one live session monthly) in-depth, hybrid course on foundational Buddhist teachings, Khenpo Gawang will guide participants through his book, Your Mind Is Your Teacher. This is strongly recommended for new students but will be offered in enough depth to be interesting and useful to those who have studied Buddhist teachings for many years.
This course is open to all and no prerequisites are required.
Topics to be covered:
The Four Seals of the Dharma

Impermanence
Multiplicity
Suffering
Emptiness

The Eightfold Noble Path
The Five Skandhas
The Twelve Nidanas
Karma
Merit
Death and the Bardo
Absolute and Relative Reality
In addition to the teachings, for the periods between classes, the course will include optional contemplations, readings, and exercises to help deepen and strengthen these core understandings of Buddhism.
Text
Your Mind Is Your Teacher by Khenpo Gawang available from Shambhala Publications and other sources.
About the Teacher

Khenpo Gawang Rinpoche is the founder and spiritual director of Pema Karpo Meditation Center in Memphis, Tennessee, where he has lived since 2007. In 2006, he received his Khenpo degree, the Buddhist equivalent of a PhD, from the Ngagyur Nyingma Institute (Buddhist College) of Namdroling Monastery in South India. His journey started when in 2003 he was sent by his root teacher, HH Penor Rinpoche, to assist Shambhala Global and to begin teaching in the West.
Rinpoche is the author of Your Mind Is Your Teacher (Shambhala Publications). He co-translated with Gerry Wiener, The Excellent Path to Enlightenment by Longchenpa, and The Gate of Entry Into the Limitless Activities of the Supreme Noble Ones: A Short Commentary on the King of Aspiration Prayers for the Excellent Conduct of the Noble Ones by Lochen Dharmashri. Khenpo and Gerry have translated a trilogy of works related to the profound text by Shantideva on becoming a bodhisattva: Bodhisattvacaryāvatāra: Entering the Way of the Bodhisattvas – Duhuang Edition by Shantideva (a 1000 year old text), The Ketaka Jewel by Mipham Rinpoche (a commentary on the Wisdom Chapter), and Entering the Way of the Bodhisattvas: An Annotated Commentary by Khenpo Shenga (soon to be published). These books are available on Amazon.
Before returning to Namdroling Monastery in 2018, as vice-president of the Buddhist college, and continuing after his return to Memphis, Khenpo Gawang Rinpoche lives in semi-retreat. He practices meditation in the mornings and spends his afternoons and evenings in study, contemplation and translation of Tibetan Buddhist texts. Since early 2020, Rinpoche has been teaching regularly online, something he enjoys greatly since he can simultaneously be in retreat and teach anywhere in the world.
Register on the Shambhala Online website. Half of the $179 fee will be returned to the Vancouver Shambhala Centre if you set Vancouver as your centre affiliation.
https://shambhala.org/event/646777-exploring-foundational-buddhist-teachings-centre-and-group-participants/

Click the "Request a discount" link at the bottom of the program page and choose "Unfavorable currency exchange rate" to pay the US equivalent of CAD$179 (approx US$134).
As a follow-up to this course, Khenpo Gawang will present Mahayana teachings on Shambhala Online in 2024.