Shambhala Lineage
The word 'lineage' means a line of instruction/transmission that has been passed down from teacher to disciple throughout history.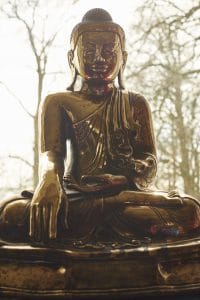 Shambhala is a path towards realising bravery, dignity, and kindness, with an emphasis on the need for cultivating enlightened, or uplifted society, free from personal and national ego-centrism. It is inspired by the teachings of the Buddha, as well as modern teachers trained in the Kagyü and Nyingma schools of Tibetan Buddhism: Chögyam Trungpa Rinpoche and Sakyong Jamgön Mipham Rinpoche. It draws on a wide variety of contemplative traditions and offers a comprehensive path of mindfulness and awareness meditation practice and study, as well as other contemplative disciplines.
The premise of the Shambhala tradition is that basic human goodness and wisdom transcend any one culture or religion. From this point of view, it is a secular, non-religious approach, which embodies essential values and principles that have been recognised by many cultures throughout history.
Chögyam Trungpa Rinpoche
The founder of Shambhala was Chögyam Trungpa Rinpoche (1939-1987). Prior to his escape from Tibet in 1959, he was the holder of numerous meditative lineages in the Kagyu and Nyingma traditions of Tibetan Buddhism.
Having witnessed the demise of his own homeland of Tibet at the hands of the communists in China, Chögyam Trungpa went into a long period of reflection and meditation. He came to realize that the ancient teachings of Buddhism and Shambhala were more relevant than ever, given the immense challenges facing humanity.
Beginning in the 1970s he began to present a societal vision based on the Shambhala terma (hidden teachings) that proclaims the inherent goodness at the heart of humanity.
"The world is in absolute turmoil. The Shambhala teachings are founded on the premise that there is basic human wisdom that can help solve the world's problems… Shambhala vision teaches that, in the face of the world's problems, we can be heroic and kind at the same time."
– Chögyam Trungpa Rinpoche.
Chögyam Trungpa Rinpoche taught extensively in the west for over 17 years, during which time he started Naropa University and founded several land centres for deep practice including Gampo Abbey in Cape Breton, Nova Scotia.
Chögyam Trungpa felt that humanity was at a crossroads. If we wish to create a better world, it would need to base its approach on global respect for fundamental human dignity. This is the core message of Shambhala.
Trungpa Rinpoche's body of work is extensive and includes multiple translations of ancient Tibetan texts, over 40 published books and transcripts, and a systematic deep training in Buddhism and meditation that has spanned the globe.
The pith of these profound teachings were gathered together into his best-selling book Shambhala: The Sacred Path of the Warrior, and many other writings, films and recordings.
More detailed biography of Chogyam Trungpa Rinpoche
Sakyong Mipham Rinpoche
The current Shambhala lineage holder is Chogyam Trungpa's son, Jampal Trinley Dradül. Sakyong Mipham Rinpoche was born in 1962 in Bodhagaya, India, to Lady Könchok Palden. He received an initial Buddhist education in India, later joining Chögyam Trungpa Rinpoche in England and North America. As a young man, the Sakyong studied with His Holiness Dilgo Khyentse Rinpoche and with HH Penor Rinpoche.
Sakyong Mipham Rinpoche is unique in that he bridges two worlds—Asian and Western—having been brought up in both cultures. He is the incarnation of Mipham the Great, a renowned Nyingma scholar and meditation master. As part of the Mukpo clan of eastern Tibet, Sakyong Mipham Rinpoche descends from the Tibetan warrior-king Gesar of Ling.
His books include Turning the Mind into an Ally, Ruling Your World, The Lost Art of Good Conversation, and The Shambhala Principle.
He is married to Khandro Tseyang Palmo, daughter of His Eminence Namkha Drimed Rabjam Rinpoche, head of the Ripa lineage. They currently reside in Nepal.
More detailed biography of Sakyong Mipham Rinpoche
Please also see our Care and Conduct page for current issues about Sakyong Mipham Rinpoche.