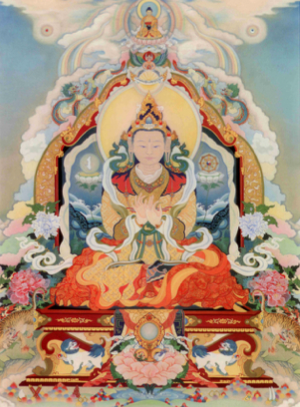 An Introduction to the Shambhala Lineage, Part 2
with Walker Blaine
Did you ever ask yourself where Shambhala comes from?
An Introduction to the Shambhala Lineage is a course exploring the core elements of the Shambhala tradition. In Part 1, we looked at the place of sitting meditation in this tradition.
In Part 2, we will investigate the major figures in the Shambhala tradition by looking in depth at the meaning behind the 'Supplication to the Shambhala Lineage', a chant often done at the beginning of events or programmes. We will learn about the central figure which hangs over most Shambhala Centre shrines, the Primordial Ridgen, and about the background of the practices that make up the Shambhala path. (NOTE: Everyone is welcome to Part 2; Part 1 is not required)
The course is based on talks by Walker Blaine, who has been part of the Shambhala community for 35 years. He has studied under the Druk Sakyong, Sakyong Mipham Rinpoche, and Khenpo Tsultrim Gyamtso. Since 2012, Walker has provided support for the texts and instructions of the Shambhala lineage and overseen translation projects for Sakyong Mipham Rinpoche. He lives with his wife and young son in Halifax and is currently working on a book on the Shambhala tradition.
Meetings will be on Zoom from 6:30 to 8:30 pm
Zoom: 517 279 1759 Passphrase: 123456
Thursdays December 3 and 17, January 7 and 21, February 4 and 18
They will include breakout groups as well as plenary sessions for discussion.
Cost: $30 CDN or $23 USD (Those who helped purchase the course for Vancouver are exempt.)
All are welcome regardless of practice experience or ability to pay the fee.
Coordinator: Ginny Evans [email protected]