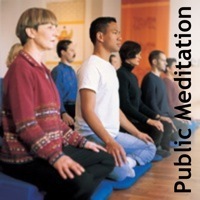 Second Saturday Community Sitting
The second Saturday of each month
9 am - noon
Our public meditation practice sessions highlight the Shambhala community's core practice—mindfulness-awareness meditation—in both sitting and walking forms.
Everyone is welcome, and participation is free of charge, though donations are gratefully accepted. Participants may come and go as they wish.
We begin at 9 am with sitting and walking meditation until 10:30.
Then a coffee/tea break until 11:00, to give us a chance to meet newcomers and catch up with old friends.
Then sitting and walking meditation from 11:00 am to noon.
A short reading or contemplation is offered mid-morning.
You can arrive on time or late for any in-person sitting session. Please place your shoes in the main closet and enter the meditation hall quietly. If there is a gatekeeper, you may be directed to wait outside the meditation hall for a few minutes before entering. You can also quietly leave any meditation session early. A good time to do this is during walking meditation.
For first-time meditation instruction, please join our Open House program on Wednesday evenings.